Charter Email Login.
Sign in to your Charter.net Spectrum Webmail account in seconds.
See the Charter Email Server settings (IMAP, POP3, SMTP) for setting up Charter Email with an email client like Outlook or Gmail.
Charter Spectrum is now the official trade name of Charter Communications, used for consumer cable television, internet, phone, an all wireless services provided by Charter. After the acquisitions of Time Warner Cable & Bright House Networks by Charter Communications, all email trademark brands, including Charter Webmail, has now been re-branded as Spectrum Webmail.
Charter.net Email Login.
How do I log in to my Charter email account?
Visit www.charter.net in your browser. You will be re-directed to the new Charter email login page at https://www.spectrum.net. Alternatively,  log in at https://webmail.spectrum.net/mail/auth.
In the Username field, enter your Charter email address, your associated phone number or the Username you created when you signed up.
In the Password field, enter your Charter email password.
Tick the "I'm not a Robot" box, and select the correct images.
Click on "Sign In".
You will now be logged in to your Charter email account.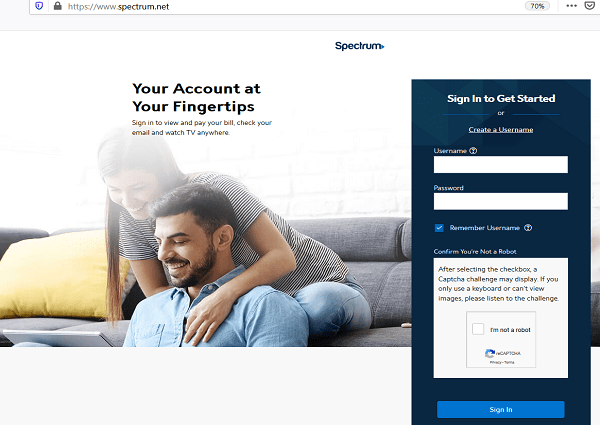 Charter Spectrum Email Login – Step-By-Step.
Watch this video for a visual guide on how to log in to you Charter Spectrum email account.
Charter Email Server Settings – IMAP, POP3 and SMTP Server Settings.
If you want to use your Charter.net email account with a third party email client such as Outlook or Gmail, you will need to set up the Charter server settings in the email client.
Go to the "Settings" tab in your chosen email client program and enter the following server settings:
Charter Email – Incoming Mail Server
Account Type:
IMAP
Username:
Your Charter email address is your username
Server hostname:
mobile.charter.net or Imap.charter.net
Server port:
993
Authentication:
Password
SSL/TLS:
Yes
Charter Email – Outgoing Mail Server
Account Type:
SMTP
Username:
Your email address is your username
Server hostname:
mobile.charter.net or Smtp.charter.net
Server port:
587
Authentication:
Password
SSL/TLS:
Yes
If you want to set up POP email delivery, then use these server settings:
CHARTER.NET – Incoming Mail Server (POP)
Account Type
POP
UserName
Your Email Address (For Ex: [email protected])
Password
Your Email Account Password
Server hostname
pop.charter.net
ServerPort
110
Required Authentication?
Yes, Email account Username and Password
SSL/TLS
NO
CHARTER.NET – Outgoing Mail Server (SMTP)
Account Type
SMTP
UserName
Your Email Address (For Ex: [email protected])
Password
Your Email Account Password
Server hostname
smtp.charter.net
Server port
25
Required Authentication?
Yes, Email account Username and Password
SSL/TLS
NO